Solutions
Arvind Envisol has the proprietary technologies needed for cost-effective water treatment including recycling and recovery. Our water
conservation solutions are being used by major industries around the world for industrial, commercial, and municipal applications. Water
optimization is a critical component of all modern establishments given the urgent need to save and recover water. We have the
technologies coupled with the know-how and experience to provide customized wastewater treatment solutions.
PACKAGED SEWAGE TREATMENT PLANT(PSTP)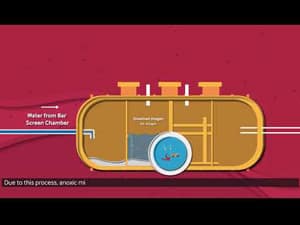 Arvind Packaged Sewage Treatment Plant (PSTP) is housed in specially designed and highly durable FRP tank. These tanks are compact which can be utilized in decentralized manner at any location, either it's underground or above the ground.
The Arvind Packaged STP is designed to bring the treated sewage parameters (BOD, COD, TSS, TN etc.) below the permissible limit which is stipulated by Pollution Control Board.MBBR technology is used in this system.
PROCESS DESCRIPTION OF ARVIND PACKAGE STP
1. Preliminary treatment
The influent sewage water passes through a bar screen to remove all the large objects like cans, rags, sticks, plastic packets etc. which are carried in the sewage stream.
2. Secondary treatment
a. Anaerobic Zone-
First stage of PSTP is oxygen depleted anaerobic zone in which the solids in raw sewage gets settled, while allowing the scum to float on the surface. It is a zone in which the settled sludge is stabilized by anaerobic digestion.
b. Anoxic Zone-
The sewage then enters the anoxic zone in which denitrification of the wastewater stream is accomplished by returning the activated sludge from the final sedimentation zone to the anoxic zone; where in dissolved oxygen levels are maintained approximate as 0.2 to 0.5 mg/l. In the denitrification process, anoxic microbes break down to the existing nitrates, this results in the release of inert nitrogen gas into the atmosphere.
c. Aeration Zone-
The sewage from solid separation zone flows into the aeration zone. Air is diffused with the help of air blowers which encourages the growth of bacteria cultures in and around the floating plastic media added in the aeration zone. The MBBR media provides the extended surface area for the growth of micro-organisms.
d. Sedimentation Zone-
The next step of treatment involves the sedimentation zone where organic waste is settled. The settled waste in the bottom of the tank is pumped back to the anoxic zone as a return sludge, which is done to ensure that quality of effluent must pass the stipulated sewage parameters.
3.Tertiary Treatment System:
The secondary treated sewage is then passed through the Pressure Sand Filter and Activated Carbon Filter for the removal of suspended solid (TSS), colour and odour. The treated water is then disinfected using sodium hypochlorite before it is reused.
1. INFLUENT
2. BAR SCREEN CHAMBER
3. ANAEROBIC & ANOXIC ZONE
4. AEROBIC MBBR ZONE
5. FINAL SEDIMENTATION
6. FILTER FEED TANK
7. MBBR MEDIA
8. AIR BLOWERS
9. RECIRCULATION PUMP
10. FILTER FEED PUMP
11. PRESSURE SAND FILTER
12. ACTIVATED CARBON FILTER
13. DISINFECTION
14. AIR VENT
15. TREATED WATER TANK
| Key Points | Arvind MBBR FRP-PSTP |
| --- | --- |
| Performance | Decomposition of organic waste is consistent throughout the year. |
| Monitoring of MLSS & F/M ratio | Required |
| Sludge Removal | Once in 18-24 months. |
| Chemicals & Equipment for Sludge Dewatering and Treatment | Required. |
| Skilled Supervision | Not Required. |
| O & M cost | 70% reduction compared to conventional STPs. |
| Tank Maintenance | Leak & rust proof. No root integration & fungal growth. |
| Tank Maintenance and Durability | Maintenance free and much more durable. |
| Installation Lead Time | Within 7 to 10 days. |
| Up-gradation and Relocation | Possible. |
| SR. NO. | PRODUCTS |
| --- | --- |
| 1 | FRP Package Sewage Treatment Plant (ENVI Model). |
| 2 | FRP Anaerobic Septic Tank (FAST Model). |
| 3 | FRP Waste Water Equalization / Collection Tank (FET Model). |
| 4 | FRP Water Storage Tank (FWST Model). |
| 5 | FRP Fire fighting Water Storage Tank (FFST Model). |
APPLICATION AND USES
Residential and Commercial Complex
Public Garden and National Park
Hotel and Resort
Restaurant
Industry
Institution
Hospital
Temple
Government Office
Labour Quarter
Township
Hostel