Solutions
Arvind Envisol is a world-class water management company providing end to end solutions for water treatment, industrial wastewater treatment,
sewage treatment, desalination and Zero Liquid Discharge (ZLD) solutions at minimal costs. We have experience in designing and treating hard to
treat effluent at a very nominal cost. Our expertise lies in bringing our teams together for the seamless implementation of the project. We work to
implicate new technologies, reduce footprint, save energy, and deliver a state of the art water treatment plant.
PACKAGED SEWAGE TREATMENT PLANT (PSTP)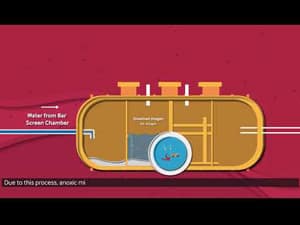 Arvind Packaged Sewage Treatment Plant (PSTP) is housed in specially designed and highly durable FRP tank. These tanks are compact which can be utilized in a decentralized manner at any location, either it's underground or above the ground.
The Arvind Packaged STP is designed to bring the treated sewage parameters (BOD, COD, TSS, TN etc.) below the permissible limit which is stipulated by the Pollution Control Board. MBBR technology is used in this system.
PROCESS DESCRIPTION OF ARVIND PACKAGE STP
1. Preliminary Treatment
The influent sewage water passes through a bar screen to remove all the large objects like cans, rags, sticks, plastic packets etc. which are carried in the sewage stream.
2. Secondary Treatment
a. Anaerobic Zone-
The first stage of PSTP is an oxygen-depleted anaerobic zone in which the solids in raw sewage gets settled while allowing the scum to float on the surface. It is a zone in which the settled sludge is stabilized by anaerobic digestion.
b. Anoxic Zone-
The sewage then enters the anoxic zone in which denitrification of the wastewater stream is accomplished by returning the activated sludge from the final sedimentation zone to the anoxic zone; wherein dissolved oxygen levels are maintained approximately as 0.2 to 0.5 mg/l. In the denitrification process, anoxic microbes break down to the existing nitrates, this results in the release of inert nitrogen gas into the atmosphere.
c. Aeration Zone-
The sewage from solid separation zone flows into the aeration zone. Air is diffused with the help of air blowers which encourages the growth of bacteria cultures in and around the floating plastic media added in the aeration zone. The MBBR media provides the extended surface area for the growth of microorganisms.
d. Sedimentation Zone-
The next step of treatment involves the sedimentation zone where organic waste is settled. The settled waste in the bottom of the tank is pumped back to the anoxic zone as a return sludge, which is done to ensure that the quality of effluent must pass the stipulated sewage parameters.
3. Tertiary Treatment System:
The secondary treated sewage is then passed through the Pressure Sand Filter and Activated Carbon Filter for the removal of suspended solids (TSS), colour, and odour. The treated water is then disinfected using sodium hypochlorite before it is reused.

1. INFLUENT
2. BAR SCREEN CHAMBER
3. ANAEROBIC & ANOXIC ZONE
4. AEROBIC MBBR ZONE
5. FINAL SEDIMENTATION
6. FILTER FEED TANK
7. MBBR MEDIA
8. AIR BLOWERS
9. RECIRCULATION PUMP
10. FILTER FEED PUMP
11. PRESSURE SAND FILTER
12. ACTIVATED CARBON FILTER
13. DISINFECTION
14. AIR VENT
15. TREATED WATER TANK
Features of PSTP

Key Points
Arvind MBBR FRP-PSTP
MS-EP / RCC Conventional STP
Performance
Decomposition of organic waste is consistent throughout the year
Seasonal variation is observed
Monitoring of MLSS & F/M Ratio
Required
Not Required
Sludge Removal
Once in 18-24 months
Once in a month
Chemicals & Equipment for Sludge Dewatering and Treatment
Required
Once in a month
Skilled Supervision
Not Required
Required
O & M Cost
70% reduction compared to conventional STPs
Much higher
Tank Maintenance
Leak & rust proof. No root integration & fungal growth
Prone to leak & rust, root integration &
fungal growth
Tank Maintenance and Durability
Maintenance free and much more durable
Requires frequent maintenance. Much
lower durability
Installation Lead Time
Within 7 to 10 days
Much higher
Upgradation and Relocation
Possible
Not possible
| SR. NO. | PRODUCTS | CAPACITY RANGE |
| --- | --- | --- |
| 1 | FRP Package Sewage Treatment Plant (ENVI Model) | 2 KLD to 500 KLD |
| 2 | FRP Anaerobic Septic Tank (FAST Model) | 10 KL to 150 KL |
| 3 | FRP Waste Water Equalization / Collection Tank (FET Model) | 10 KL to 150 KL |
| 4 | FRP Water Storage Tank (FWST Model) | 10 KL to 150 KL |
| 5 | FRP Fir Fighting Water Storage Tank (FFST Model) | 10 KL to 150 KL |
APPLICATION AND USES
Residential and Commercial Complex
Public Garden and National Park
Hotel & Resorts
Restaurants
Industries
Institutions
Hospitals
Temples
Government Offices
Labour Quarters
Township
Hostels