MBR MEMBRANE BIOREACTOR
A Moving Bed Biofilm Reactor (MBBR) also known as MBBR media consists of an aeration tank which is similar to an activated sludge tank with special plastic carriers that provide a surface where a biofilm can grow.
In MBBR technology thousands of polyethylene biofilm carriers are used to operate in mixed motion inside the aeration tank.
There is a protected surface on each biofilm carrier which increases the productivity and growth of heterotrophic and autotrophic bacteria within its cells.
It is this high-density population of bacteria that achieves high-rate biodegradation within the system while also offering process reliability and ease of operation.
Arvind Envisol is a MBBR provider with a higher surface are compared to other providers in India.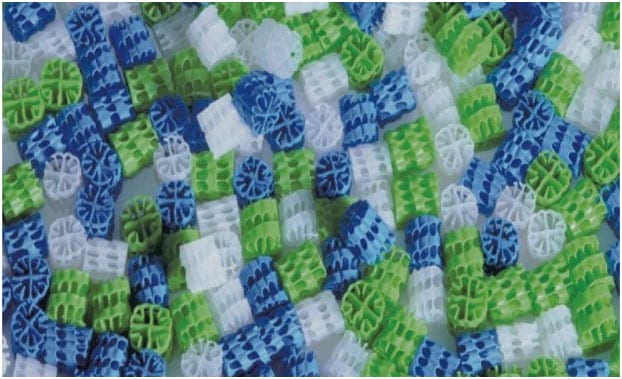 Advantages of MBBR
MBBR system requires a lesser footprint compared to activated sludge system, because the biomass in MBBR is more concentrated and the efficiency of the system is less dependent on the final sludge.
MBBR system doesn't need the recycling of the sludge.
An existing plant's capacity can be increased using MBBR as a retrofit.
MBBR has a higher effective sludge retention time (SRT), which is favourable for nitrification.
As there is no sludge return time process performance is independent of the secondary clarifier.